By BILL SHARKEY III
Martinez News-Gazette Columnist
NOW IS THE TIME for all good Americans to come to the aid (rescue?) of their nation, a paraphrase of an old typing test. Now is the time to overcome the divisiveness which seems to have developed. Now is the time to come together to quell the violence which has shocked the nation, caused by citizens gone awry, for who knows all the reasons?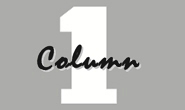 Natural disasters as we are currently experiencing in the Atlantic will come and go, an event of nature. The human suffering in loss of life and property will be dealt with as only this nation's people and its government have shown the way. However, no amount of help can erase the images we have seen in the Bahamas this past week. No amount of sympathy or empathy for the devastated nation or its people could ever compensate for the misery they are suffering. Prayers will help as intensive relief efforts get underway.
Reports of 'help is on the way' to the literally destroyed Bahamas include the Coast Guard with hits helos and vessels, as well as Coasties on the ground shown in TV video dealing with bodies moving them to aid areas.
The Commandant of the Coast Guard, Admiral Karl Schultz, a friend of ours, has had experience in such events in recent years as Commander of the Seventh District in Florida for large storms and hurricanes. He has the experience needed in such times as these.
While 'we' are still recovering from the several mass shootings of the past weeks, with the attendant suffering by the victims and their loved ones, fate of some kind has brought another, the horrendous loss of life in the boat fire off Southern California. Thirty-four diving enthusiasts on a three-day outing in lovely waters close to shore had their lives snuffed out in moments with little apparent time to save themselves at 3:30 in the morning as they slept well after enjoying an enervating day diving with friends and family members. A fire so quick and so intense survival was virtually impossible. Thirty-four humans, including one family of four from the Stockton area celebrating the father's birthday.
Who takes the first step to aid in this nation's survival?
SHOOTING GALLERIES apparently have lost out, at least in greater downtown Martinez. The sentiment was obvious at the meeting where the decision was made by the Planning Commission. Hopefully, 604 Ferry Street will become a very successful outdoor sporting goods venue to enhance the viability of Martinez' commercial sector. We join others in wishing Bandon Varise well in his efforts.
NEWS of the $2.0 million grant to the John Muir Land Trust from the California Wildlife Conservation Road to assist with the $4 million sought to purchase the Almond Ranch south of Highway 4 and west of Alhambra Avenue. Beautiful acres of property high above the valley below, with outstanding residential development potential, the preservation of such land will benefit our area for the future. Hurray!
FOOTBALL continues in the news as teams start their 2019-2020 season schedules this week. A lot of discussion on-going regarding injuries, especially to players' heads. Arms, legs, knees and backs can be coped with. Players live with those injuries as they play, get rehab work and move on, dealing with pain later in life. Head injuries build up over the years and, as we are finding out more about later life can become a tragedy for aging former players and their families. Not pretty, but something only recently being taken very seriously.
A recent editorial in the East Bay Times cited reports by the California Interscholastic Federation that California parents and high school tackle football participation has declined some 3% as realization of the potential damage to young bodies, particularly heads and brains, becomes better known.
Years ago, our personal physician and Alhambra team doctor, Ben Whisenand, MD, suggested our freshman son quit football after a minor knee injury. He said, "These young developing bodies really are not ready for this hard contact activity." We took his advice.
The next level below high school football is for the 'little guys', whose bodies are even more unsuited for tackle football. What is wrong with the growing sport of flag football with non-violent collisions, but a lot of team work and excitement? Do we have 'football Dad's' pushing for tackle football at too early an age? The future of the well-being of youngsters should be considered.
CHEERS for all the advocates of banning the sale of 'flavored' e-cigarettes which are making news already as contributing to serious health issues. Surveys have cited the high percentage of use by teens. (Make it three cheers for the banning advocates!!)