By BILL SHARKEY III
Martinez News-Gazette Columnist
YAHOO!! The 2018 June 5 election finally 'heated up' with the controversial issue over how will we decide what to do with open space in the years to come. Lots of $$$ spent on the very colorful campaign material mailed out. Letters to the editor by citizens with their thoughts. Then there was the blistering editorial in the East Bay Times declaring that the citizens of Martinez obviously do not trust the City Council. Pretty harsh stuff. Also, much too broad a brush to paint the Council with. Letters to the editor recently would indicate otherwise. Maybe the editorial writer for the EB Times spent too much time with the Measure l proponents; or, perhaps believed too much?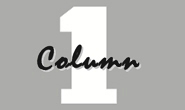 The races for state-wide offices have an unbelievable number of candidates, all 'running', but what percentage actually think they have the slightest chance of winning a seat? As in golfing, 'never up, never in the cup'? Tons of money from somewhere spent to give it a try. Lots of disappointments late on June 5 and into June 6. However, thanks to all those who have taken advantage of the opportunity in our democracy to try. So few countries in the world of chaos can provide the chance.
MEANWHILE, a big time loser in the race to be popular in the entertainment world…Roseanne Barr. She made one of her very controversial comments which was so obnoxious that she is now in the unemployment line…along with many members of her cast and those who produce her shows. Sorry for her colleagues. Not at all sorry for her and her too-big mouth which has not always been cool. Today's society, most anyway, are not happy or tolerant of racism 'stuff'. She does have a prominent fan in the White House, we hear. Birds of a feather? Another act needing to be cancelled?
SPEAKING of the White House occupant and his on-going efforts to convince the world that there was no collusion with Russia in 2016, how about his latest distraction? Now it's spygate!!!! With all indications of no such thing, he continues to berate any and all with his sad message. Meanwhile, many issues are in need of presidential attention, but too many distractions. Like one every day or so? And, then there are the never-ending 2020 campaign rallies in places where he feels comfortable. And, that damn hand-clapping!! How about staying at home and working? But then, maybe we are better off with the away-from-home roadshows and no executive order signing?
HERE WE GO again! Warriors vs Cavaliers. Good news is 'we' are playing for the championship. Not so good news…we have to play against LeBron James, the monster man. While Golden State certainly has some of the best in the business, admiring LeBron is a must, as I see it. Now 33 years old, he has been playing 18 years. Last game last week when Cavs won their title, he played the full 48 minutes. This series will really be something to watch. Go, Warriors!
BILL WAINWRIGHT'S passing recently brought back memories of him, of his perpetual smile and enthusiasm, of his love of our town and his dedication to it in politics and service groups. The breadth of his career experiences here and overseas was special. His heritage of pioneer family; all members part of our town history. More recently, as a personal note, in our Kiwanis Club when both of us were members, it was decided that the two Bills should be known as Bill the Elder, and Bill the Younger to distinguish between us. Obviously, I was 'the elder'.
Our community will miss Bill Wainwright and his contributions to it.
VOTE-BY-MAIL is a great idea. It can be very convenient. It, also, can be a pain if not done correctly. Especially if the voter using it waits until the last minute to mark the ballots. Then, there is the election day dash to find a polling place to drop off the mail-in-ballot envelope, by closing time after work, of course. Don't forget the postage if mailed. Costs 71-cents this year. What happens if you don't put postage on it? Does it become an expense for the County Elections Department? Hmmm. (The experience stated here is from personal experience a couple times. Will we never learn?)
TRAVEL CAN BE FUN. In fact, isn't that the purpose, if not for business? Sometimes there are mess-ups. In fact, it can be often. Case in point, daughter Jane and her husband booked flights from Sun Valley, Idaho, to Budapest for a river cruise. Their travel agent got them a great deal, she said. However, the good deal had some small print which, when noticed, was too late to change. Jane flew to Paris, Mark to Amsterdam, obviously on different planes. Last email, "We are here in Budapest, and all is well." A beautiful city to visit. We've been there.
FIRE SEASON is here! Good rainfall, good sunshine, tall dry grass. Please take heed of fire fighters and prepare your property. The memory of the horrendous fires in California the past couple years should inspire prevention activity.
CHEERS for the Martinez Clippers and their owners as the newest 'business' in town. We wish the best in games won and success at the box office as their new season got underway last Thursday at Waterfront Park, the home park for the Clippers.