MARTINEZ, Calif. – The Martinez Library "is doing well," said Jessica Lilja, acting community library manager.
The local library, a branch of the Contra Costa County library system, just acquired 15,000 books, and is trying new ways to reach out so readers will know those titles are available, and Lilja said the library needs to do a better job of promoting its array of services.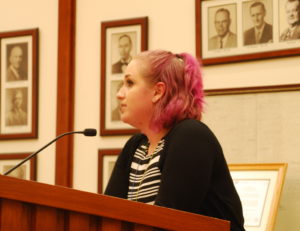 Lilja succeeds Ruth Boyer, who had been the librarian before moving to the county's library in Antioch. Lilja, who also has been a children's librarian, has been at the Martinez branch since December 2017.
One promotional approach the library is trying is online outlets. Part of the reason the library is using social media methods is because many of the titles and services target youth, Lilja explained.
The library is on Facebook, Twitter, Instagram and Next Door, especially to reach its school-age clientele.
Books for younger readers account for 40 percent of the library's budget, and it is the area of book lending that sees the most circulation, Lilja said.
In some places, getting youth into a library is a challenge. Martinez is bucking that trend, Lilja said.
The library has a Wednesday afternoon drop-in program for teenagers. "It's a hard age bracket to get in," she said. "But this is one of our most popular programs."
It is a "STEAM" type of event, with a focus on science, technology, engineering, the arts and mathematics, but with games and crafts to keep teenagers entertained.
It also helps youth serve the Martinez community, such as the craft projects through which teens can make blankets and toys for the pets available for adoption at the Martinez animal shelter operated through Contra Costa County Animal Services.
The drop-in programs often have guest speakers, and snacks are provided.
Another popular area of the library is the one that caters to those who speak languages other than English, she said.
Many of those books are in Spanish, Chinese and Russian, and are used by those who are bilingual or who are enrolled in English classes for speakers of other languages.
The library has an online presence and computers available for clients to use, Lilja said. It regularly gets thousands of log-ins, especially to Lynda.com, a website with more than 6,000 courses in business, technology and skills taught by industry professionals.
Some of those users are library staffmembers, she said. Through this website alone, they've learned how to build a web page and other computer skills they need not only directly in their work, but as they help library users.
Kanopy lets library users stream movies from classics to independently-produced films and documentaries.
Young users also can get real-time tutoring through one of the library's many data bases.
This summer, the library again will participate with Martinez Unified School District and Boys and Girls Club in "Lunch at the Library," which helps less fortunate school children who had been depending on school lunches to assure they have proper nutrition during the day.
This lunch program will operate three days a week, Lilja said.
Older residents aren't ignored, either. The county library system has an entire section reserved for those 50 and older, offering links to classes, job resources, meeting and activity sites, transportation and travel opportunities and volunteering opportunities.
Adults also can learn how to spot false information that has been posted online, what community services are available, where to go with questions on Social Security, taxes and veterans concerns as well as how to get help when composing a genealogy.
Martinez residents can support their library by going there and getting a library card. "Come in and check out a book," she said.
Another way they can show their support is to join the Friends of the Library, an organization that gives the library financial support through donations of money and supplies and through its book sales.
They help with exhibits, programs, everyday library tasks and other library promotions. The Friends of the Martinez Book Store, on the library's first floor, is open from noon to 8 p.m. Mondays and Tuesdays and noon to 4 p.m. Wednesdays and Sundays.
Those interested may email FriendsofMartinezLibrary@gmail.com.
Among the library's upcoming activities this month are the Mad Hatter Tea in conjunction with the city of Martinez, primarily for children, at 6:30 p.m. Monday; a meeting of the Martinez Book Club, primarily for adult readers who this month have read "Moby Dick" by Herman Melville, at 6 p.m. Tuesday; Drop-In Wednesday at 2:30 p.m. for middle and high school age students; and Homework Help, for children 5 to 17, with teen volunteers available to help, at 3:30 p.m.
"Come to the library," Lilja urged. "We're having fun there!"
The Martinez Library is at 740 Court St., and is open from noon to 8 p.m. Monday; 10 a.m. to 8 p.m. Tuesday, Noon to 5 p.m. Wednesday and Friday, and 10 a.m. to 5 p.m. Saturday. The library is closed Thursdays and Sundays.
Its website is http://ccclib.org/locations/martinez.html.